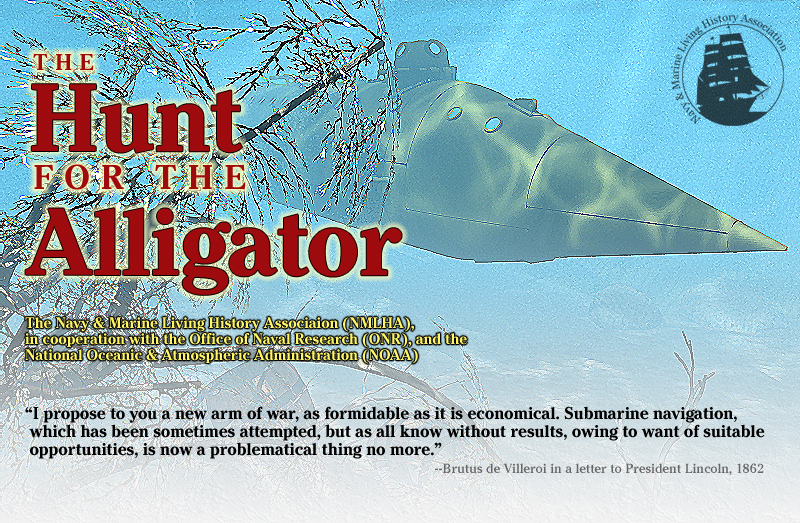 The Navy & Marine Living History Association is proud to be involved in the search for and raising of U.S.S. Alligator. In addition to the efforts of our member units in distributing information about the project, this website will be constantly updated with news about our progress--both in the pages of history and also on the sea floor. Following the brief explanation as to why the Alligator Project is so very important, there are links to a variety of related resources; we'll augment these as quickly as possible.
In 1863, at the height of the American Civil War, the U.S.S. Alligator went down in a storm off Cape Hatteras. Alligator was the most technologically advanced weapon in the Union naval arsenal, incorporating technology not usually associated with the Civil War Navy: a diverís airlock, tanks of compressed air for adjusting the attitude of the boat, a large crew of twenty men, and an air scrubbing system to remove carbon dioxide from the atmosphere. It's mode of attack--electrically-detonated limpet mines placed by its diver. Such a vessel would not be seen again in the American Navy for almost forty years.
Now the U.S. Navy is intent upon finding and raising the Alligator. While the recovery of the vessel is historically important, the most compelling reasons for doing so are more modern in nature--and much more pressing.
The first of these reasons is for our national defense. Alligator is a small vessel (only 47 feet long and 5 feet wide) and finding it will be a test of our technology. Actually, we will have to develop new technology both for the search and for the recovery. Finding the submarine will send a message to the world that we can detect any such small ship or object as it approaches our shores, and that the devices designed to find Alligator will be used to monitor the littoral long after that boat is raised.
The second use to which the Alligator technology will be used is to protect our environment. Since metal ships have plied the oceans, they have been sinking, and taking down with them cargoes of fuels, chemicals, and, sometimes, radioactive material. Saltwater is corrosive, and it is only a matter of time before the hulls of these vessels are breached and begin to leak their deadly contents into the waters off our coasts. Developing the tools to find such wrecks and either stabilize or remove their toxic contents is better done now, in advance of the day when multiple ships begin to break apart. The cleanup cost of waiting will be staggering: It cost millions of dollars to remove oil from the wreck of a single ship that sank in 1951, and even then, not all of the oil could be recovered from the vessel. Many of these ships sank in our lifetimes or in those of our parents; it is our responsibility to deal with the situation.

Office of Naval Research
(ONR)
National Oceanographic & Atmospheric Administration
(NOAA)
Join the Hunt!
Download an NMLHA Alligator banner to link back to this site

To be notified when the NMLHA Alligator site is updated, please send an email to:
alligator@navyandmarine.org


Repair to the NMLHA Main Page